My wife's going out on Friday night (and I'm at home with the kids) if anyone wants to come over and try out this AMID THE ASHES game I've been making a print and play version of.... (plays Max 4 players)

http://boardgamegeek.com/boardgame/143521/amid-the-ashes

Post here - or send me a PM if anyone fancies giving it a go.... room for 3 players....
I would have been interested, but unfortunately away in Manchester on Friday.
Would like to but I need to get a few more survivors painted up for the Zombicide things next week. I have completed 12. Got 6 on the table (first coat pretty much done) at the moment and another 10 (not even undercoated) to do.


You could help tonight
So.... Just me and Kes in a struggle for resources in a post-apocalyptic land on Friday night.... can no-one else be tempted to join this epic battle....???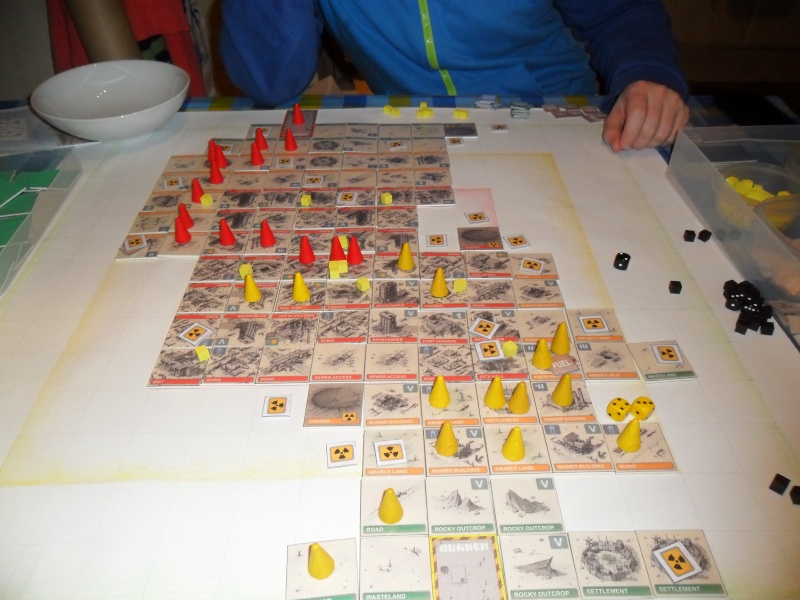 Well - I enjoyed playing
AMID THE ASHES
even though Kes thrashed me at it. I think the general consensus between us was that it would definitely be a more interesting / fun game with more players. A two player game took us 3.5 hours... and it could probably be a bit longer with more players - so It's a bit long for a Tuesday night game. I'm going to organise another go at my house some time soon... Friday nights are best for me.... I'll post another thread when I come up with a date....  
Might be longer but it might not be that much longer. Took us a while to find the feel of the game which we could avoid on the next play through
---
Permissions in this forum:
You
cannot
reply to topics in this forum